Fire Helmet Shields was started by a career Kansas City, KS fireman, Brian Williams.  The company was actually started because I was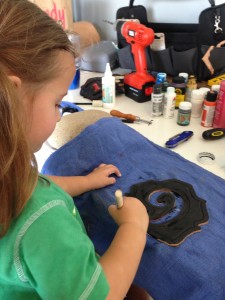 searching for a new shield for my fire helmet.  I wanted one I found online but unfortunately that fireman was no longer building shields.
I decided to take on learning the skill of leather working in order to make this shield for myself.  After quite a while and quite a bit of money spent, I learned the skill and came up with my own design based on his original.
I currently enjoy make fire helmet fronts for firefighters all over the world.  My wife helps me out with the website and sewing and as you can see from the picture above, sometimes I let my daughter do a little staining for me.  She mainly stains herself though.
If you have any questions about any of our products, please feel free to email us by using the contact us page.
Sincerely,
Brian Williams