Welcome to Fire Helmet Shields.  We make custom helmet fronts for all brands of helmets.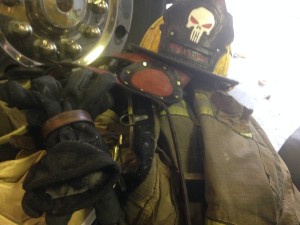 Each one of our shields is made from high quality leather and is hand tooled to your specifications.  If you have any questions about a design or are buying a shield as a gift, I would love to answer your questions.  Click here to visit the contact us page.
FHS is owned and operated by Brian Williams.  I am a firefighter in Kansas City Kansas.
Check out samples of our helmet shields below along with our additional products, and keep in mind we can do custom orders if you have a specific design in mind.
Check where your order is on the order list.
Fire Helmet Shields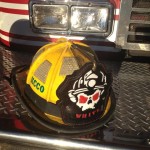 The Custom Tooled –  Custom tooled shields are a blank canvas.  I can create just about any design, as long as there is enough space on the shield.  I can use your artwork or create something from scratch.  Use the contact page to send me any questions about any shield questions you might have, or head to the Custom Tooled page to order yours today.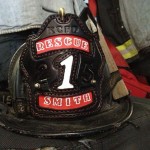 The Crew -  The Crew is as it sounds.  A station or rig shield.  This front comes with one or two cutouts in the top or bottom and is very customizable.  Check out all the different pictures on the product page of the shields we have created.  The Crew can come in most any color with four different colors of stitching.  Use the contact us page with any questions.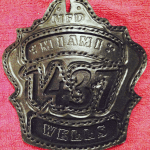 Blackout – Our Blackout shield is much like the crew but is all black.  There are bottom and top rockers cut out of the leather and a center section where your station or rig number can be cut out.  This is by far one of our more popular shields.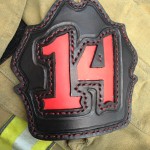 The Solo -  For those looking for more of a basic shield.  The solo is a two layered shield with your rig or station number cut out of the top piece.  The background color for the numbers can be just about any color you would like.  Stitching can come in white, black, blue or red.  Check out the Solo product page to see more pictures.
Leather Firefighter Bunker Gear  Suspenders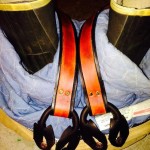 Custom made leather firefighter suspenders for your bunker gear are now available.  These suspenders are made from high quality thick leather and can be stamped with anything you would like.  Check out our firefighter suspenders page for more information and order yours today.
Fire Glove Straps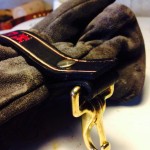 Our glove straps are made from a single piece of high quality leather.  They are made from rivets, buckles and saddle hook to attach to the outside of your gear.  These straps will work with your structure, overhaul or rescue gloves.  Check out or glove strap product page.
Leather Helmet Strap
Our helmet straps are in the process of being developed.  Be sure to check back as this page will soon be updated.