Welcome to Fire Helmet Shields.  Custom made helmet fronts for firefighters by firefighters.
Each one of our shields is made from high quality leather and is hand tooled to your specifications.  Shields can be created with your design or I can create a design of your liking.   Check out all our different shields below and see if anything catches your eye. If you have any questions about a design or are buying a shield as a gift, I would love to answer your questions.  Click here to visit the contact us page.
Fire Helmet Shields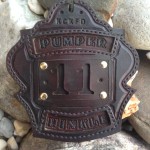 Passport – The passport fire shield came about by popular demand.  I had ton's of people tell me how much they loved my shields but wanted something with a center section they could change.  I eventually got around to creating the passport which is now probably my most popular front.  No longer do you have to be stuck with a shield that doesn't correspond with the station or rig you work on.  For a minimal cost you can just change the passport section.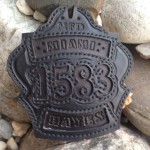 Blackout - The blackout is one of our most popular fire helmet shields.  Like the others, it is constructed from two high grade,  thick pieces of leather.  The back piece is stamped with the wording your desire and the front piece is cut and tooled to take the shape you see in the picture to the left.  This is a very high quality shield at an incredible price.  Although this is called the blackout in can come in a variety of colors just as long as the whole shield is the same color.  Check it out here.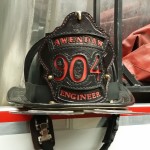 The Crew -  The Crew is as it sounds.  A station or rig shield.  This front comes with one or two cutouts in the top or bottom and is very customizable.  Check out all the different pictures on the product page of the shields we have created.  The Crew can come in most any color with four different colors of stitching.  Take a look and if you have questions about any of my shields please feel free to send me an email.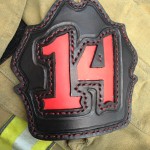 The Solo -  For those looking for more of a basic shield.  The solo is a two layered shield with your rig or station number cut out of the top piece.  The background color for the numbers can be just about any color you would like.  Stitching can come in white, black, blue or red.  Each of these fire helmet shields are custom dyed and a variety of colors are available.  Check out the Solo product page to see more pictures.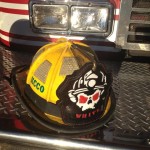 The Custom Tooled –  Custom tooled shields are a blank canvas.  I can create just about any design, as long as there is enough space on the shield.  I can use your artwork or create something from scratch.  Use the contact page to send me any questions about any shield questions you might have, or head to the Custom Tooled page to order yours today.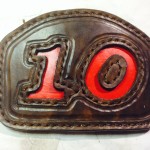 Cairns 660 Metro Shield –  This shield is custom made for the Cairns 660 Metro fire helmet.  Cut from two pieces of high quality leather, these shields are custom crafted just the way you want.  Check out the product page for more information about this fire helmet shield and get yours ordered today.
Fire Glove Straps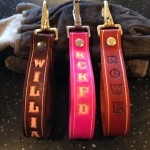 Our glove straps are made from a single piece of high quality leather.  They are made from rivets, snaps and saddle hook to attach to the outside of your gear.  These straps will work with your structure, overhaul or rescue gloves.  Check out or glove strap product page.
Firehelmetshields.com is owned an operated by Brian Williams, a career firefighter with KCKFD.  If you have any questions about ordering a shield, please visit the contact me page to send me an email.  To find out more about me and my leather work, check out the about us page.  Stay safe!
Check us out fire helmet shields on facebook to see the new fronts I am creating daily.